I'm honest, as a game developer (albeit a hobbyist) I love game jams.
In a way, they stimulate our creativity and prepare us for things that are common in the gaming industry: tight deadlines, specific topics and few resources. Of course, the first JAM I took part in wasn't that tight or had so little time to develop, but the low-resource part was very real.
In any case, I took part in a JAM (Finally Finish Something) at the beginning of 2017 and developed the first version of Wrestling & Romance during this time. While the game itself isn't a big deal (a simple visual novel), that's where I started writing more seriously until I published 3 books on Amazon.
READ – Omega Mask | A journey of blood, sweat and nights that go to sleep at 5 a.m.
But we're not here to talk about myself because I give a shit about it. The fact is that the game in this analysis also emerged from a Game Jam, in this specific case a game that emerged from Game Jaaj, that is a Game Jam by Youtuber Amdré Young, which not only comes from Game Jam, but also won the fourth edition. However, in the time between Game Jaaj 4 and the release of the final game, Yugo Anzai released another game that we talked about here a while ago, in this case the 112th seed puzzle released by EastAsiaSoft for consoles.
Welcome Back didn't hit Steam until October and is it worth it?
You died. Time for reincarnation
You're an aspiring programmer working on something at a game jam, the person you care about is worried about telling you that you need a break. You don't rest until you suddenly have a heart attack and die. End. No, seriously, you died. Really go away, the text is over.
…
Don't you have
…
Okay, but you actually died. And now you may be wondering. "Why does this fat man refer to the playable character as 'You'?" The answer is clear, young man. You choose your character's name and the name of the person you like. Girlfriend, wife, the girl you had a crush on in high school but never said anything because of your excessive shyness and fear, it doesn't matter. You died.
However, God, or rather GOD (yes, in Caps) in all his wickedness says that you have a chance to reincarnate. But in order to be born again, your soul must be reborn in five different animals and go through trials that will make it worthy of being human again.
ALSO READ: 112.Seeds | The seed of redemption
So between jokes with GOD and bad jokes, it is time to face the task of reincarnation, even if you have to use your brain to do it.
Your enemies are your weapons … literally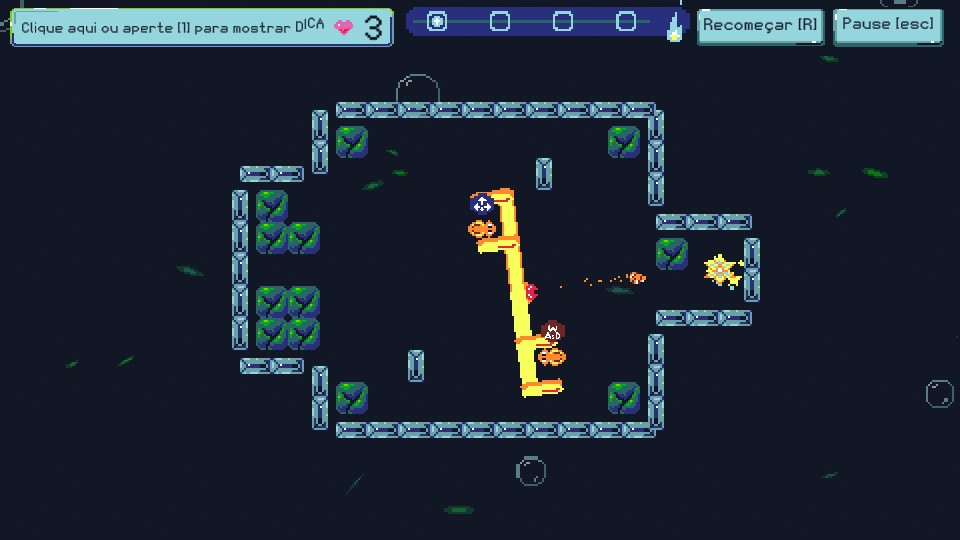 The game was developed for Game Jaaj 4, the theme of which was, Your enemies are your weapons, and that's the root of Welcome Back's gameplay, but it's not just about learning how the game works, because like I said, it is are five steps to reincarnation and each stage has a completely different gameplay than the other without using the theme of enemies as weapons.
In one step you can absorb some enemies (half a la Kirby) and throw them at thorns (or other enemies), in one you have to move two characters at the same time (with WASD and arrow keys), in another you have to move two characters at the same time ( using WASD and arrow keys) uses webs to pass the obstacles and the spiders collide with each other, in one you hit the enemies in a car scroller against the thorns and in the fifth step, you can freeze the enemies and use them as a platform (and other enemies kill if frozen enemy lands on them after using them as platform).
GO WATCH – Cyberpunk 2077 – Part 11: Help friends
Each level has a series of levels of increasing difficulty (but not that difficult), and in some levels there are some green crystals that GOD says you should ignore that you don't have to take (which in video game terms means you are YOU HAVE TO CATCH).
Just like with 112th Seed, it doesn't take long to get the hang of how the game works and make it to the end of the fifth area. And this is where another thing about the game comes in, the multiple endings. You can choose to follow GOD'S commands and not use the green crystals, or you can, just like Hitoshura in Shin Megami Tensei III: Nocturne, Disobey GOD, use the green crystals to …
We are entering a new phase in which we have to face GOD, who has the help of spaceships. This is where the actual puzzle elements of the game come into play, but still in the "Enemies as Weapons" theme. GOD has ships that came out of a shooter and you need to position the crystals so that they ricochet off the ships' shots in order for them to hit GOD.
The crystals can either be a square or a diamond and that interferes with the angle the bullets are hit at so there will be a lot of trial and error (I make it look dramatic, I know, but that's because I am really stupid), I calmly and calculatingly say that.
Simple, clean look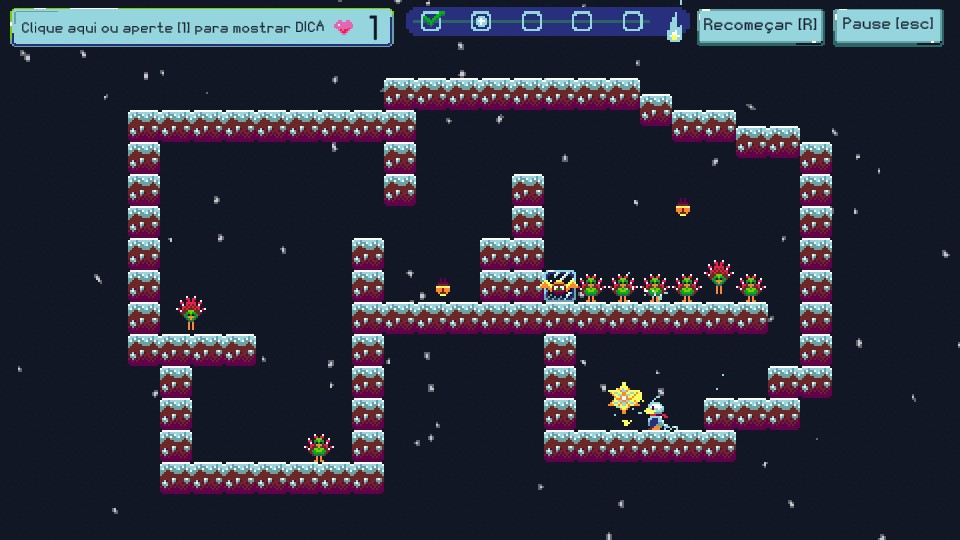 Welcome Back's pixel art is simple, and the game may even use too much blue for my tastes (hey, I need space to play my jokes), but that doesn't have to mean something bad.
Each stage of reincarnation brings not only unique mechanics, but also unique elements. You won't see enemies repeating from one phase to another even if we control a school of fish (which only has 2 phases). Enemies are unique in relation to others.
The sound part of the game only serves as a complement to the game mechanics, is not necessarily bad, but not the kind of music that sticks in your head. I know when I talk about music I'm straight and I don't say a lot, but I'm usually not easily impressed in THIS department.
final judgment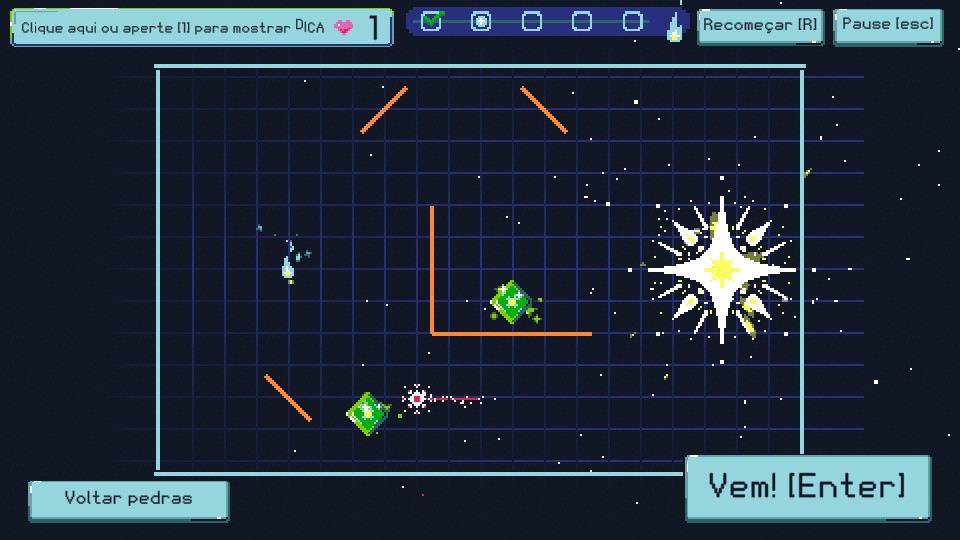 Considering this is a short game that was (originally) made for a game jam in two weeks (originally), Welcome Back offers a solid and creative gaming experience that is worth every minute played (except for the part where I was in phase 4 of the first reincarnation thought I had to kill all enemies and not just the ones with the little star glow around them, this part of my playthrough was too stupid even for my standards). So, if the opportunity arises (and money allows it), I recommend buying the game without thinking twice.
Welcome back is available for PC.
–
This analysis was carried out using a digital copy of PlayStation 4 kindly provided by Slider Games