Analysis of Storm: The Challenge of the Gods was recently published here on the site, a mediocre game made on crowdfunding and all the game left behind was a bunch of disappointed, angry supporters and another game mixes Storm's universe that managed to be worse than the first.
Because yes, they made a game of Holy Avenger, and YES, IT'S WORSE THAN STORM: THE GODS' CHALLENGE.
READ – Tempest: The Challenge of the Gods | critical error
Anyway, I was basically talking about a bad game that was crowdfunded. What does this have to do with the game I'm reviewing?
Well, the game in this review you're reading right now is also crowdfunded, but unlike Storm: O Desafio dos Deuses, dude, where's my beer? it didn't reach its initial target of $7,000 (which was more or less 27,000 reais in December 2018), yielding just $1,807 (6,902 reais at the exchange rate of the time).
Luckily, the campaign had a flexible backdrop and the game's developers worked with what they had.
Was it worth it? Check with me.
Looking for a deer
You are the red-haired Norwegian cousin of Kaiser's Baixinho and you have just arrived in Oslo after meeting your cousin and other forgotten advertising characters such as Sukita's Uncle, C&A's Sebastian and Casas Bahia's suitcase who asked "WANT PAY HOW MUCH." ?".
After a long journey you just want to drink a plain cold beer, like in a bar… Or whatever plain beers are served, I don't drink, I'm just kidding here.
Anyway, all you want is a cheap cold beer, but by edict of some hipster asshole (whom I'll call Philip Grandson "from now on") beers have been banned and craft beers with extremely long names like Caribbean Elixir made way. from Northern Australia or something like that, usually produced by those pencil-necked hipsters who frequent USP.
Disgusted by the lack of a beer from people who still have all their neurons and don't care about the number of likes on Twitter/Instagram, our middle-aged redhead starts a pilgrimage in search of beer and has to deal with all kinds as an idiot and snobbish hipster, to have to solve extremely unnecessary things that only make sense if your name is Guybrush Threepwood.
A foolishly unnecessary trip, and therefore worth it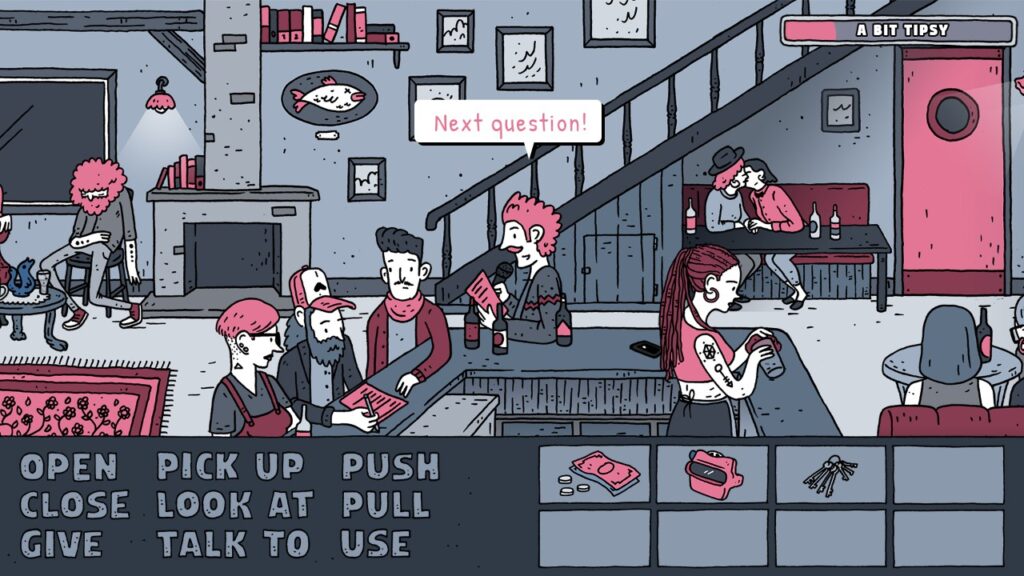 The game is a point and click adventure in the style of games like Secret of Monkey Island and Maniac Mansion, so move around by clicking where you want and you have a variety of actions to perform, by clicking on it. or use keyboard shortcuts (useful at some points in the story).
However, it does have an interesting mechanic (which may or may not have been used in another game, I'm not an adventure graduate) since your character is a guy who isn't very sociable, so to speak to most people, you have to drink unnecessarily complicated-named beers like Ukrainian honey from Nepalese Senegalese, which can be bought in bars along the way.
Drinking a beer increases the Manguaça level a bit and allows you to talk to people and pick up some items that your character doesn't want to pick up when sober. Here's the gameplay as the character does stupidly complicated things that end up being a love letter to classic LucasArts adventures.
It's not often that the game's sense of humor makes you laugh, but the game world has enough interesting backgrounds to keep you playing.
There are things that haven't been researched enough, perhaps due to lack of funds. This is also reflected in the length of the game as it can be completed in around 3, 4 hours or much less if you know what you are doing and it takes two playthroughs to complete all the achievements (one without getting the clues the talking cat and one who gets all the hints from the talking cat).
Not only is it fun as some choices made weren't the best for the game. First, the game doesn't always tell you that you've already done something that elicited a reaction elsewhere, which can be head-scratching. And on the more technical side, the game doesn't allow you to change the game's resolution, which is a disadvantage for those who usually play in windowed mode.
Few colors, good animation, fabulous soundtrack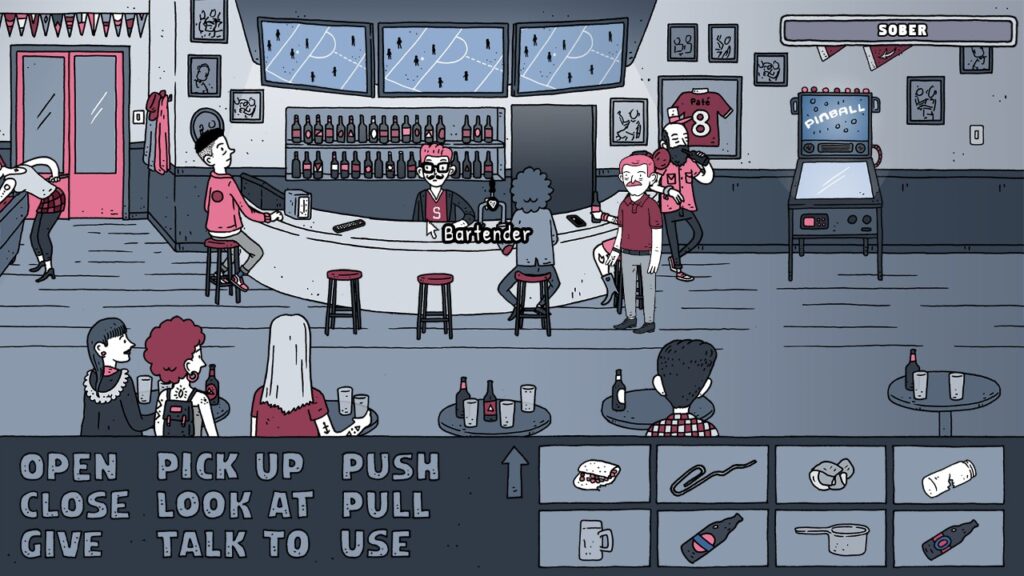 The art style chosen for the game might seem strange at first, but you get used to it and see that it's even well drawn and the sprites are reasonably well animated. The settings are rich in detail and reflect every type of bar you visit, from the basics to the sports bar to the Pakistani bar named after a death metal band.
And, of course, the game was made with a small but well-chosen color palette, where the colors contrast harmoniously and do not harm the eyes, even in the part warning about epilepsy it is nothing flashy.
David Borke's soundtrack is quite functional, that's how we can define it. While lacking those memorable themes, it is competent enough to put the player in the mood needed for this brief adventure.
Not all areas will necessarily have music, what will often accompany you is your footsteps or the cacophony of a crowd.
A pleasant surprise, but not for everyone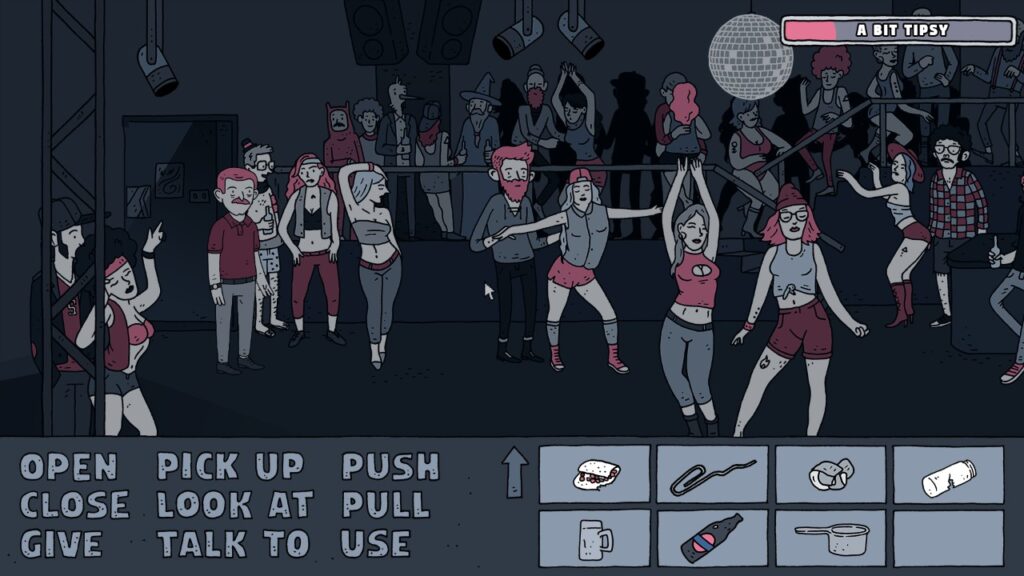 The developers themselves said that they basically made the game they wanted to play, so if you're a fan of classic LucasArts adventures, you'll feel right at home with Dude, Where is my Beer? games that were made back then stood out.
Of course, not everyone likes adventurous people, but those who do will find a good aperitif here.
Dude, Where is My Beer is available for PC, and the review was carried out using a copy kindly provided by the developers.