There was a time when wrestling games were numerous and varied, like in the Attitude era of WWE, where you even had games from more than one manufacturer/developer, when even THQ secured exclusivity for WWE games and WCW (and ECW) died, if you had a platform, your wrestling was guaranteed to be different than someone else's.
It went on for a couple of years and we had several games, but it cut down to the point where we were only left with Yukes games.
WATCH – My Nintendo 64 games collection
New Japan Pro Wrestling games haven't made it to the west, the Fire Pro Wrestling series has had erratic releases and EA shit on the third Def JAM. Midway and Konami even tried something but Midway was in bad shape when they released TNA Impact and the AAA game didn't do as well as Konami hoped.
Recently, however, we've seen a resurgence in pro wrestling games, Spike Chunsoft renewed the Fire Pro franchise with the successful Fire Pro Wrestling World, Yuke's decided to work on a project of its own as it was dissatisfied with only the annual WWE game (which caused 2K to terminate their contract with them, causing this train wreck called WWE 2K20), Retrosoft Studios released the cool Retromania Wrestling and relied on Arc System Works' licensing for the release, the official sequel to WWF Wrestlefest (Retromania inspiration) One of the most anticipated games by fans is Wrestling Code, developed by the folks at Virtual Basement.
All Elite Wrestling has officially partnered with Yuke's to develop the AEW game (which should perhaps be out sometime in 2022) and MDickie continues to develop their games, with the latest, Wrestling Empire, coming out for Nintendo Switch, PC and mobile .
And if you want to play Booker, there are still alternatives, like the Total Extreme Wrestling series (and its free clone Extreme Warfare Revenge, which I've even played every now and then) and Wrestling Empíre itself has a booking mode.
Anyway, the defunct company Chikara (when it was in the market) also wanted a part in this resurgence and brought Chikara: Action Arcade Wrestling to PCs in 2019. However, in 2020 with the pandemic and the Speaking Out movement (where multiple wrestlers denounced abusive behavior/inappropriate sexual behavior by multiple wrestlers), the company finally closed its doors and as a result the game underwent a change and removed Chikara's name.
Now in 2021 the game has finally made its way to PlayStation 4 and Xbox One (with the Nintendo Switch version on the way), is it worth your money?
The lack of a main mode hurts the competition
Action Arcade Wrestling does not have a story mode. Or a career mode. This is a really negative point, not because of what the game itself offers, but because of the competition when it comes to wrestling.
Wrestling Empire has an excellent career mode (light years away from WWE games), Retromania has a story mode (starring John Morrison) and a special NWA Championship mode, Fire Pro Wrestling World has three story modes.
A career mode or at least a tournament mode would be welcome, but we only have exhibition matches.
This is how wrestling should be: fun (albeit flawed)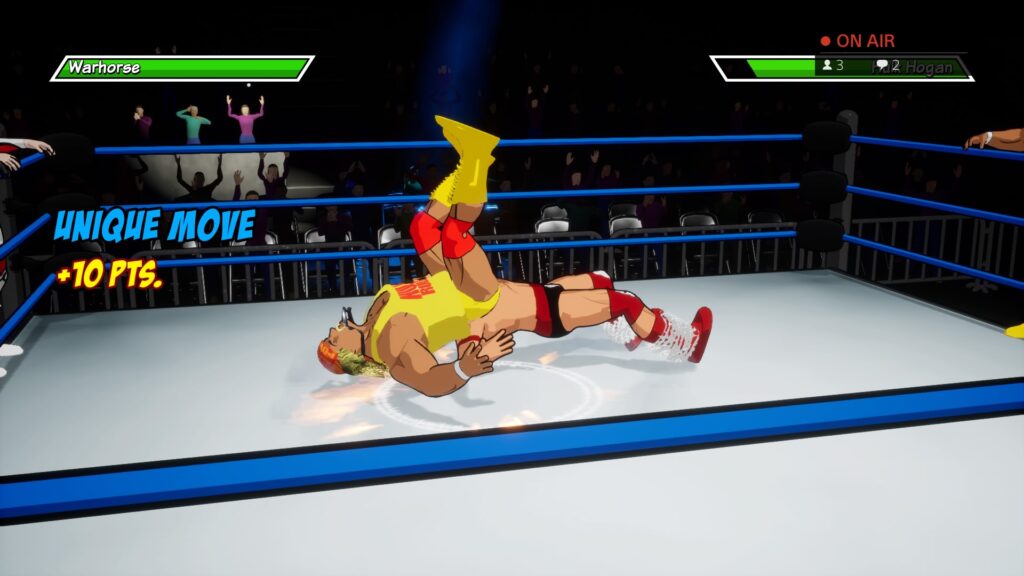 Since the game is no longer branded by Chikara, it has a roster made up of generic wrestlers (like Fire Pro Wrestling World did before the update with New Japan wrestlers), but this problem is easily solved with community creations.
Unlike games like WWE, where each platform has its own creations, the creations in Action Arcade Wrestling are cross-platform thanks to the character creation tool Wrestle Lab.
Wrestle Lab is a PC program that is very flexible and allows immense customization, with no limits to the player's imagination. Unfortunately the program didn't run on my PC, but the creations are available for all platforms.
So you can have fights ranging from Adam Cole vs CM Punk to a rematch between Shawn Michaels and GOD vs Vince and Shane McMahon… Or you can go crazy and pit Optimus Prime against a Pepsi machine. The sky (or community creativity) is the limit.
READ – Is the moon from Zelda Majora's Mask real?
The game has 16 different battle types, but they can be divided into 4 types, single battles (with 3-way, 4-way and handicap variants), double/team battles (with tornado tag and elimination like Survival Series) and Rumble Matches, which can be either Battle Royal (with everyone in the ring at once) or Battle Rumble (recently added, it works like Royal Rumble, two in the ring and the other participants enter at fixed intervals).
Unfortunately, there aren't any specific fights like ladder matches or table matches, although tables can be used as weapons in fights.
You can create your own union internally in-game and customize your roster and titles, with items unlocking as you level up (the more battles, the higher your level).
However, the game's titles are a bit less than cosmetic as they don't even appear in fights and even if you host title fights nothing changes. I don't know if they intend to implement it in the future, but it's a pity it's not working now.
Sancini, talk about the gameplay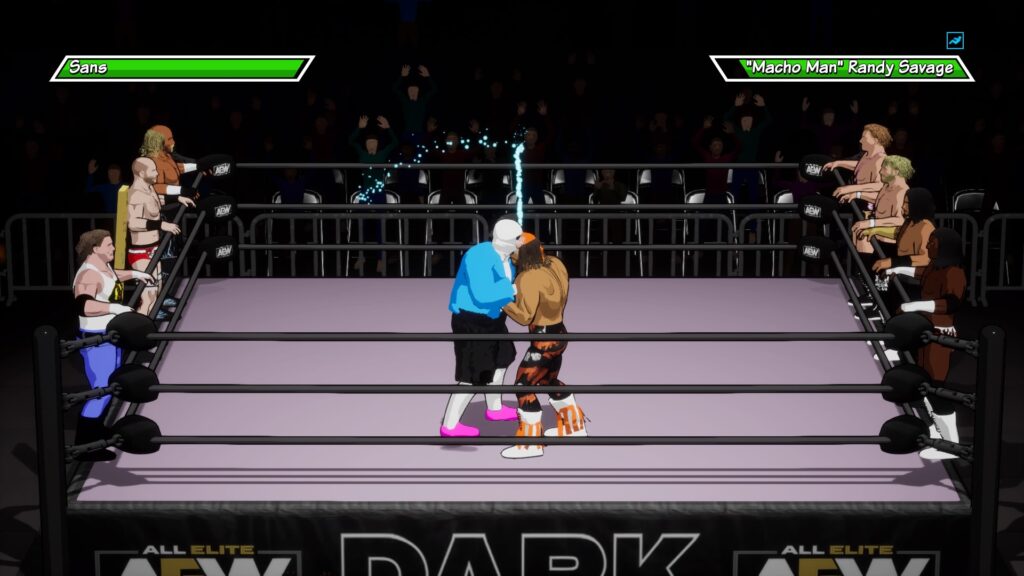 It's for now! Anyway, the gameplay works like a still arcade version of what's seen in WWE games, one button attack, one grab, use both buttons together for a powerful hit (or use a third button) .
Along with the D-Pad, punches can be thrown and simple combos can be performed. You can block hits by walking backwards like in a fighting game, and run with Attack + Grab in conjunction with the D-Pad to hit the ropes.
Special moves (also known as finishers) are only performed when the opponent is almost empty and depends on the conditions for use when you are close to the downed opponent (for a submission move like the Walls of Jericho) when you use it are grabbing your opponent for something like the Tombstone Piledriver and so on.
READ – Barry the Bunny | Bunny, if I were like you…
The gameplay encourages variety, as movement reversals happen automatically when you repeat a move, grip, or even a finisher many times. And the fights are fierce when the game doesn't crash.
Because yes, bugs and glitches are a constant in the game (more than once in a battle royale a glitch made me throw the opponent IN the ring) and more than once the game decided to just softlock my opponent when he refused to fight me in a 5v5 elimination.
The issue of in-game bugs always strikes me as "one step forward, two steps back" because while the latest update patch fixed some bugs, others surfaced and in-game load times increased exponentially on PS4.
Aesthetically beautiful, forgetful in the sound department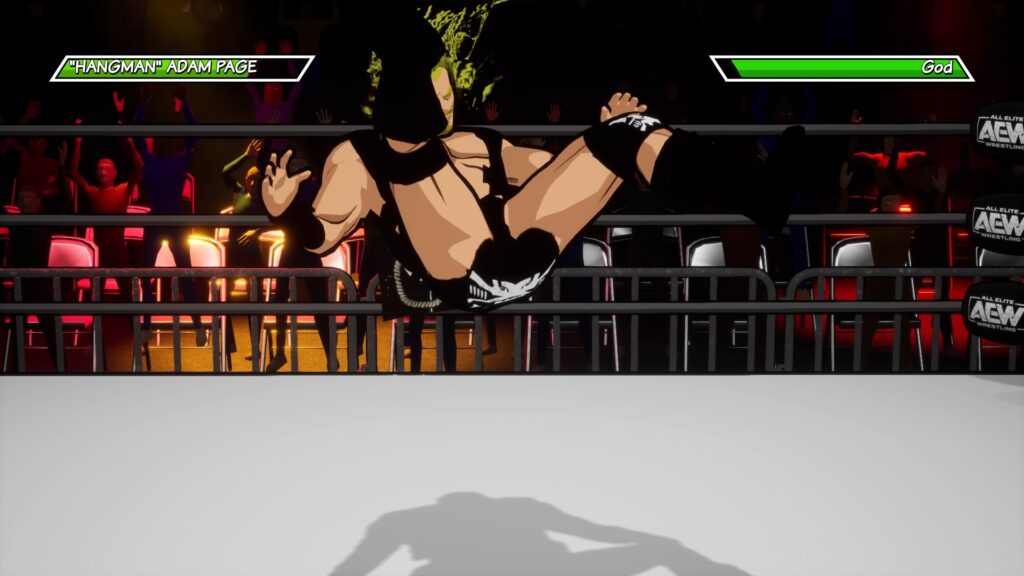 Graphically it is a simple but beautiful game. It doesn't have ultra-detailed arenas or anything like that, but the base aesthetics are good.
The characters in cellshading help mask potential bugs, and many of the community creations that use the base graphics fit in well with the game's roster.
The same cannot be said for the game's soundtrack, which consists of a single song in the main menu. The fighters don't have any themes or even appearances, which in turn makes a negative impression.
Zach Johnson's over-the-top narration is limited, but at least it doesn't get boring like in WWE games.
Difficult Decision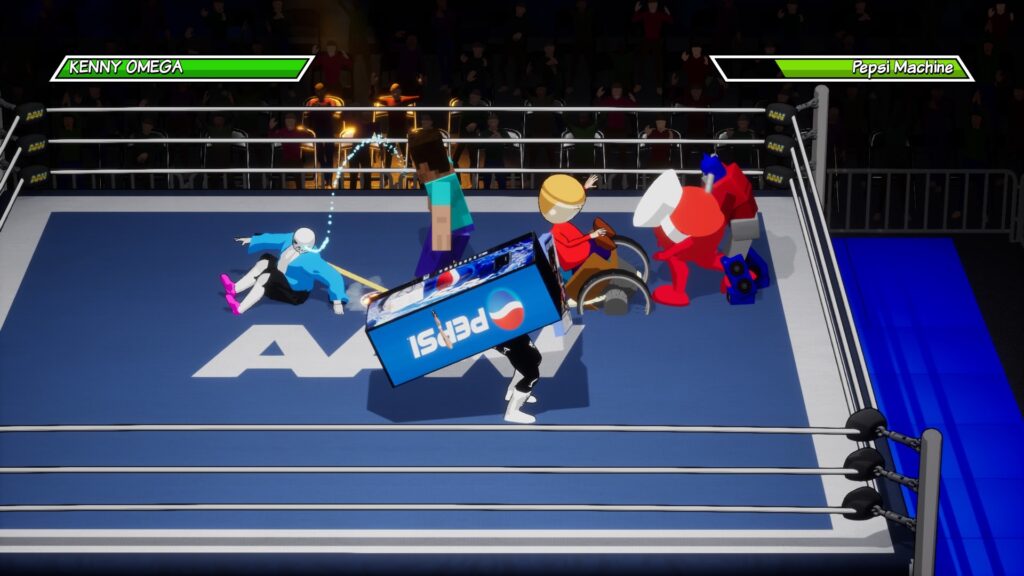 Action Arcade Wrestling's potential is great, but there are flaws and a lack of enough base content that prevent this game from being considered a must-buy. Is it better than WWE 2k20?
Sure, but so far getting oral pleasure with Mortal Kombat's Mileena is better than WWE 2k20, even if it means being a eunuch for life. (Editor's note: BA DUM TSSS)
It's cheaper than other wrestling games on the market, has good community content, and an arcade gauntlet mode is coming soon (at least that's the intention of the developers), but still. If you want this game, maybe in a console sale.
Action Arcade Wrestling is available for PC, PlayStation 4 and Xbox One, with a Switch version in the pipeline.
—
This review was conducted using a digital copy of the PlayStation 4 kindly provided by Reverb Triple XP.